When:
November 19, 2014 @ 7:30 am – 9:00 am
2014-11-19T07:30:00-08:00
2014-11-19T09:00:00-08:00
Where:
IAM District Lodge 751
9125 15th Place South
Seattle, WA 98108
USA

Contact:
Gillian Locascio
206-277-3079
Every post-election analysis of what the Republican Congress and President Barack Obama could agree upon in 2015 includes the potential passage of trade agreements. That means potential approval of Fast Track authority for trade deals — now being negotiated in secret — to sail through Congress without amendment and the possible passage of the Trans-Pacific Partnership, a 12-nation deal that would dwarf NAFTA in terms of its economic scope.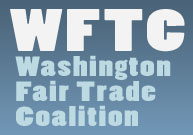 What does this mean for working families in America and in Washington state?
Find out, and help support an important organization that's looking out for workers' interests, by attending the annual breakfast fundraiser of the Washington Fair Trade Coalition. This fun event, hosted by IAM District Lodge 751 at 9125 15th Pl. S. in Seattle will be from 7:30 to 9 a.m. on Wednesday, Nov. 19.
The event will feature Celeste Drake, Trade and Globalization Policy Specialist for the AFL-CIO, who will discuss Fast Track, TPP, the status of those negotiations, and what to expect from Congress. Also featured will be Jill Mangaliman, Director of Got Green, who will share the work in local communities by BAYAN USA Pacific Northwest and how that work is jeopardized by bad trade policies.